RMP May 2010
May 24th, 2010 by Ana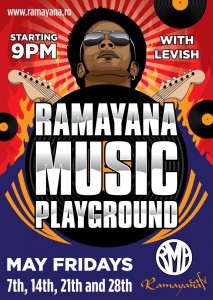 RMP 47 - Nocturnal Elegant Mix
Levish agreeaza discurile. Si nu doar discurile cu muzica facuta pe sequencers sau drum machines, ci si compilatiile eclectice cu pasaje jazz fusion sau electro-funk. De exemplu, Levish va mixa vineri Underworld cu Alice Coltrane sau cu Mahavishnu Orchestra, sau Laurent Garnier cu Roxy Music sau cu The Detroit Experiment. Un mix lounge cu pasaje dinamice, la Ramayana Cafe, dupa ora 21.
RMP 48 - A Mix For Planet Earth
Hipnotic. Psihedelic. Un pic de Caraibe, Africa, America sau Asia. Dub cu un strop de electronica de la FitiSound din Istanbul si ceva influente din Balcani si din Etiopia. Un context lounge ce ne reaminteste de origini. Pasaje repetitive ale unor linii de bas ce induc transa. Afrojazz sau funk, cu instrumente curate venite dinspre inregistrari vechi si cu farmec. Mulatu, Fela, The Whitefield Brothers, Korai Orom sau Tinariwen din Mali. Vineri, dupa ora 21, la Ramayana Cafe, cu Levish.
RMP 49 - The Big Apple Dance Mix
New York-ezilor le place sa danseze si pentru asta au grija sa produca sau sa remixeze muzica potrivita. De la LCD Soundsystem la The Juan Maclean, de la The Rapture pana la remixurile Soulwax, Fischerspooner, Hot Chip, Nine Inch Nails sau Goldfrapp, dance-ul abordat include influente punk, synthpop sau electro, alaturi de elementele acustice de percutie sau chitara. Pe scurt, ne vom aventura peste ocean iar Levish va crea atmosfera dinamica, profunda si hipnotica, insotita de zambete, joi seara, la Ramayana Cafe, dupa ora 21.