Tuesday, April 27th, 2010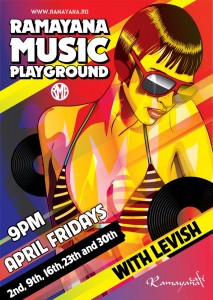 RMP 44 - A Mix For My Friends
Levish va mixa melodiile de care se simte cel mai apropiat si, astfel, veti fi parte a unei atmosfere prietenoase si plina de zambete. Cumva, veti rememora amintiri frumoase, la fel ca Levish, care creeaza un context discret si cu farmec ce ne va aduce mai aproape de noi insine. De la Amon Tobin la Smashing Pumpkins, de la The Fugees la Bonobo sau de la Dave Brubeck la Flying Lotus ori Roots Manuva, cu totii ne vom regasi diseara, la Ramayana Cafe, dupa ora 9, cu foarte multa muzica la noi.
RMP 43 - Smooth n Soul Lounge Mix
Zambetele si linistea induse de atmosfera creata la Ramayana Cafe se vor manifesta intr-un context mai mult decat special, cand Levish va imbina beat-uri idm downtempo cu piese alternative indie cu tempo de triphop si, eventual, ceva voci soul si sound afrofunk, reggae sau dub. Probabil vom include in mix War, Sixtoo, Metamatics, Curtis Mayfield, Plaid sau Mouse On Mars. Vineri seara, dupa ora 9, cu Levish.
RMP 42
Oldschool Hiphop-ul pe care il stie Levish include NWA, The Wiseguys, Brand Nubian, A Tribe Called Quest sau Naughty By Nature. Sample-uri jazzy, cu vibe de petrecere si cu rime subtile vor mentine o atmosfera vesela intr-o vineri in care vom avea chef de party si in care vom insera si ceva sound-uri actuale, mentinand un tempo funky si zambaret, uneori reggae-ish, pe care ne vom distra din plin!